Conference of the Phycology Section DBG 2018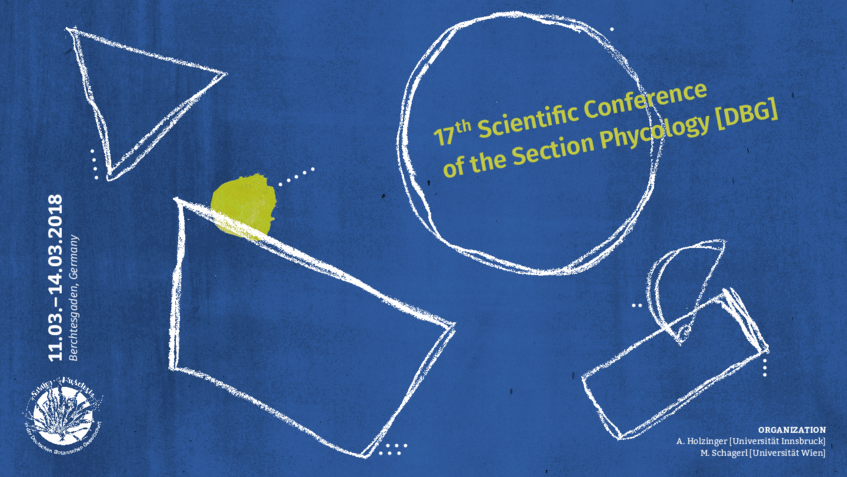 The 17. Scientific Conference of the Phycology Section of the German Botanical Society is a biannual meeting that brings together scientists (Master and PhD Students, PostDocs, Seniors) on all aspects of algal research. It is open to basic and applied research, cell biology, physiology, all molecular aspects, biodiversity, of all algal groups including cyanobacteria. We are planning on many short presentations, particularly of young scientists to share our knowledge of the fast developing fields.
The conference will be held between March 11 and March 14, 2018.
Registration is closed. Deadline for abstract submission: 15th of December 2017.

The conference language is English.
Schedule
ATTENTION - The proceedings includng the final program can be dowloaded here, hardcopies will be provided at the meeting.

Sunday, 11.3. 2018, 13.00 start registration followed by session "polar algae", ice breaker & finger food. Auction sale of phycological objects (books, fotos, lenses,…please bring donations). The returns will be donated to the section phycology.

Monday, 12.3. 2018, sessions physiology, biodiversity & phylogeny. Poster session and meeting of the section phycology

Tuesday, 13.3. 2018, sessions methods & applied phycology, Algal cell biology, Ecology & global change. Visit to the salt mines, conference dinner with award ceremonies of the Hans-Adolph von Stosch-Medal and student contributions.

Wednesday, 14.3. 2018, session physiology & resources, farewell
Costs
For Members of the Section Phycology, the conference fee will be € 120 for students and € 200 for Scientists (PostDoc, Senior) for Early Bird registration until November, 15th, 2017). For non-members and for late registration, fees will be € 150 for students and € 250 for Scientists. The registration fee includes access to the full program, program booklet, catering between the sessions, conference dinner including a visit to the salt mines.
Please transfer money to following bank account:
IBAN: AT25 3266 7000 0122 3833
BIC: RLNWATWWPRB
Account holder: Sektion Phykologie Tagung 2018 (Michael Schagerl)